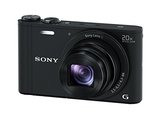 The compact zoom category is competitive and packed full of decent shooters, so where does the Sony WX350 sit? The WX350 is one of the fastest options when considering burst speed with a nice 10 fps. The 20x optical zoom isn't the best in clas...
Grade: A- Price: $268.00
We thought the Sony HX90 was a bit pricey at release--the Sony WX500 answers that with a bit more palatable price, but axes a lot of the usability features. Selling for about $410 at its first release, the Sony WX500 offers a big 30x optical zoom,...
Grade: B Price: $348.00